During the WiTIwKP 2022 conference, awards were presented in the 25th edition of the Scientific Society of Business Informatics (Polish abbr. "NTIE") for the best diploma theses in the field of business informatics. Bachelor's theses written under the supervision of Prof. Agata Filipowska were ranked first and third.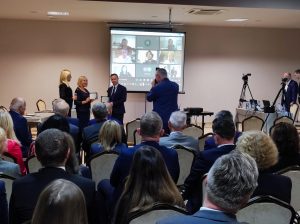 1st place:
Oskar Riewe-Perła, Human Activity Recognition and Prediction in Smart Home Environment with Deep Learning.
3rd miejsce:
Oskar Dołżkiewicz, The use of deep learning methods with reinforcement in games.
Congratulations!
Information about the Competition can be found on the website: katalogstron.ue.katowice.pl/konkursntie/